Why this story is significant: After promising Foxconn $4 billion in subsidies and paying millions on infrastructure the company demanded, Wisconsin now faces the hard reality that the Taiwan-based corporation isn't going to build a factory in their state. This is yet another example of the hollowness of Republican economic policy, as well as their willful ignorance about why global companies build factories where they do—i.e. gigantic taxpayer subsidies on the U.S. will never be a stronger incentive than a cheap and powerless labor pool elsewhere.
---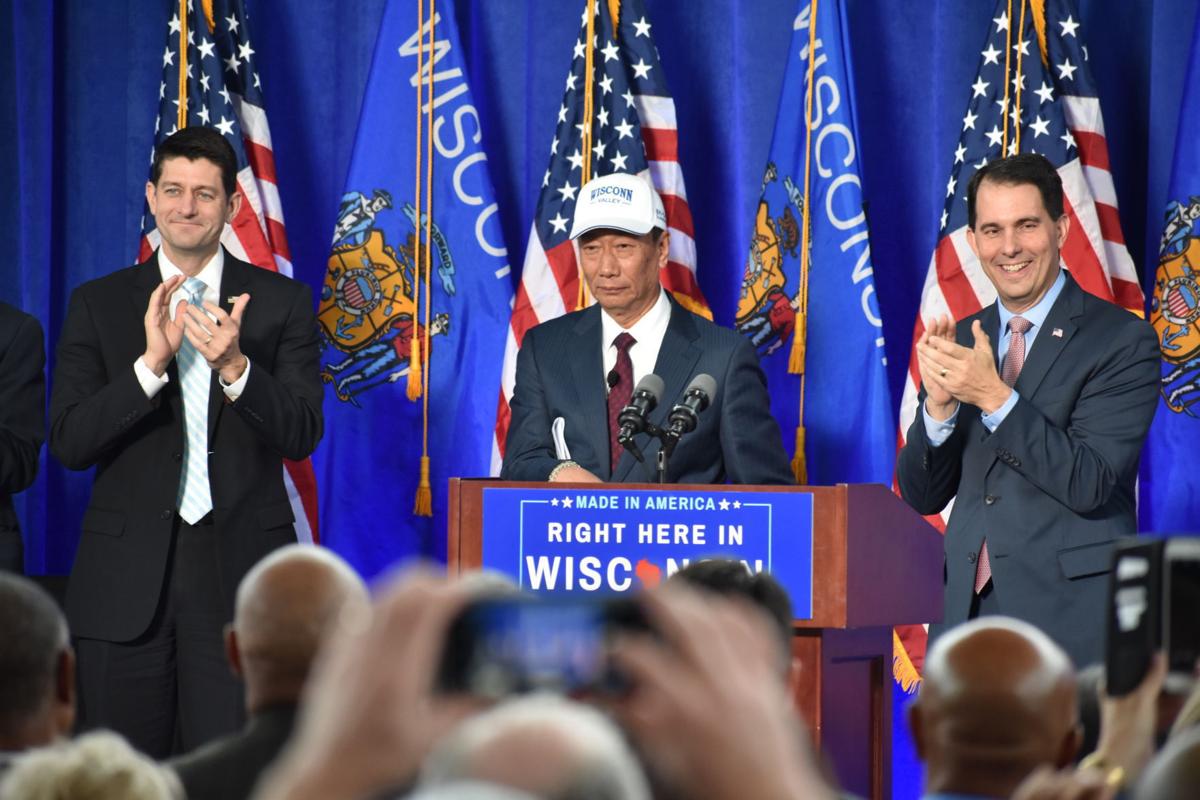 After much hullabaloo and $4 billion in taxpayer subsidies from Scott Walker, Paul Ryan, Donald Trump, and the WORST state Republican party in the United States, Foxconn has decided they don't want to build a factory in Wisconsin after all:

Foxconn, one of the largest electronics manufacturing companies in the world, received $4 billion worth of subsidies and infrastructure spending from the state of Wisconsin to build a new factory there. But the plan for that factory seems to be unraveling by the day. In fact, Foxconn now admits that they're no longer building a factory in Wisconsin, as first reported by Reuters.


"In Wisconsin we're not building a factory. You can't use a factory to view our Wisconsin investment," Louis Woo, a special assistant to Foxconn CEO Terry Gou, told Reuters.
Absolutely NO ONE saw this coming, so don't blame Republicans—we're all victims here. Pay no mind to the Democrats who opposed throwing piles of cash at the Taiwan-based iPhone manufacturer. They were just being deranged American haters:
"It appears Foxconn may break promises to Wisconsin before they even break ground in our state," said Democratic Party of Wisconsin spokeswoman Melanie Conklin.


Yet there was one problem with this rush to vilify the Taiwanese electronics giant: Foxconn denied it.


Calling the report "inaccurate" and "not based on any facts," Foxconn said their product development and production plans for the Racine-area campus were "unchanged." Soon thereafter, Nikkei Asian Review altered its initial report, backtracking on the claim that the company was seeking to lower costs.

Yet that hasn't slaked the thirst of Democrats looking to trash the deal, hoping it goes up in a mushroom cloud that engulfs Scott Walker's re-election chances. Even though the deal has been in place since September of last year, Democrats simply can't bring themselves to cheer for its success.
In essence, Democrats have crossed their fingers and continue to hope for the worst.
Yeah, the real reason Democrats opposed the Foxconn deal had nothing to do with the company's horrific labor practices and the absence of any guarantee that the company would be held accountable for not delivering on their end of the bargain, and everything to do with the liberal's obsession with blaming American first and trashing Walker and Trump's "eight wonder of the world."
Meanwhile, Republicans and media elites have swallowed the company's "this is a readjustment, not a withdrawal" narrative hook, line, and sinker:

"Contrary to what was reported by Reuters, Foxconn reiterated to us, today, its commitment to building an advanced manufacturing operation in Wisconsin, in addition to its commitment to create 13,000 jobs and invest $10 billion in Racine County," according to the statement. "As Foxconn has previously shared, they are evaluating exactly which type of TFT technology will be manufactured in Wisconsin but are proceeding with construction on related manufacturing, assembly and research facilities on the site in 2019."


In the statement the group says they understand "Foxconn must be nimble in responding to market changes to ensure the long-term success of their Wisconsin operations. We fully expect that Foxconn will meet its obligations to the state, county and village."


"Both the local and state development agreements are legally binding and include strong protections for taxpayers. The state agreement, which was largely based on job creation, ensures that Foxconn only receives state tax credits if it meets or exceeds its targeted hiring amounts in any given year," according to the statement. "The local development agreement stipulates that, if, for any reason, Foxconn's investment on the campus falls short, the company remains obligated to support a minimum valuation for the project of $1.4 billion, which will more than pay for all public improvements and development costs for the project."
"Look, brah, I know I just spent my kid's college savings on what looks like a goose someone painted gold, and I know she's just been laying plenty of regular-type eggs, but you gotta realize the costs that go into laying golden eggs under current market conditions. Seriously, dude, we can't pressure her to produce now when she's got to be agile and strategic about the long-term success of her egg-laying. And, by the way, I got a pretty good deal, cuz the price was like $4 billion and I only had to pay the dude like $1.5 million up front! So the joke's really on him. . ."
It'd be nice if elected officials realized giving away vasts sums of public money to Walmart, Foxconn, sports team owners, right-wing Latin-American politicians, military contractors, and billionaires wasn't producing the positive tickle-down economic outcomes they hoped for. Imagine if they spent that money on education, debt relief, health care, child care, housing, infrastructure, research funding, reparations, urban development, social security, or literally any other policy agenda that would unquestionable make it easier for working people to live in 21st-century America. But I guess I'm just being naive . . .
---
Agreeing Loudly relies on our readers to engage with and spread the word about the ideas and conversation we share on this site. Please feel free to comment on this post with your thoughts, and share this post on Facebook, Twitter, Reddit, or any other platform.
As always, Agreeing Loudly is proud to help its contributors gain compensation for their labor. Please consider helping kuyaalb by supporting his Patreon campaign. You can also follow him on Twitter @kuyaalb.